Two unique Amels Limited Editions superyachts launched in one day
news
2 November 2023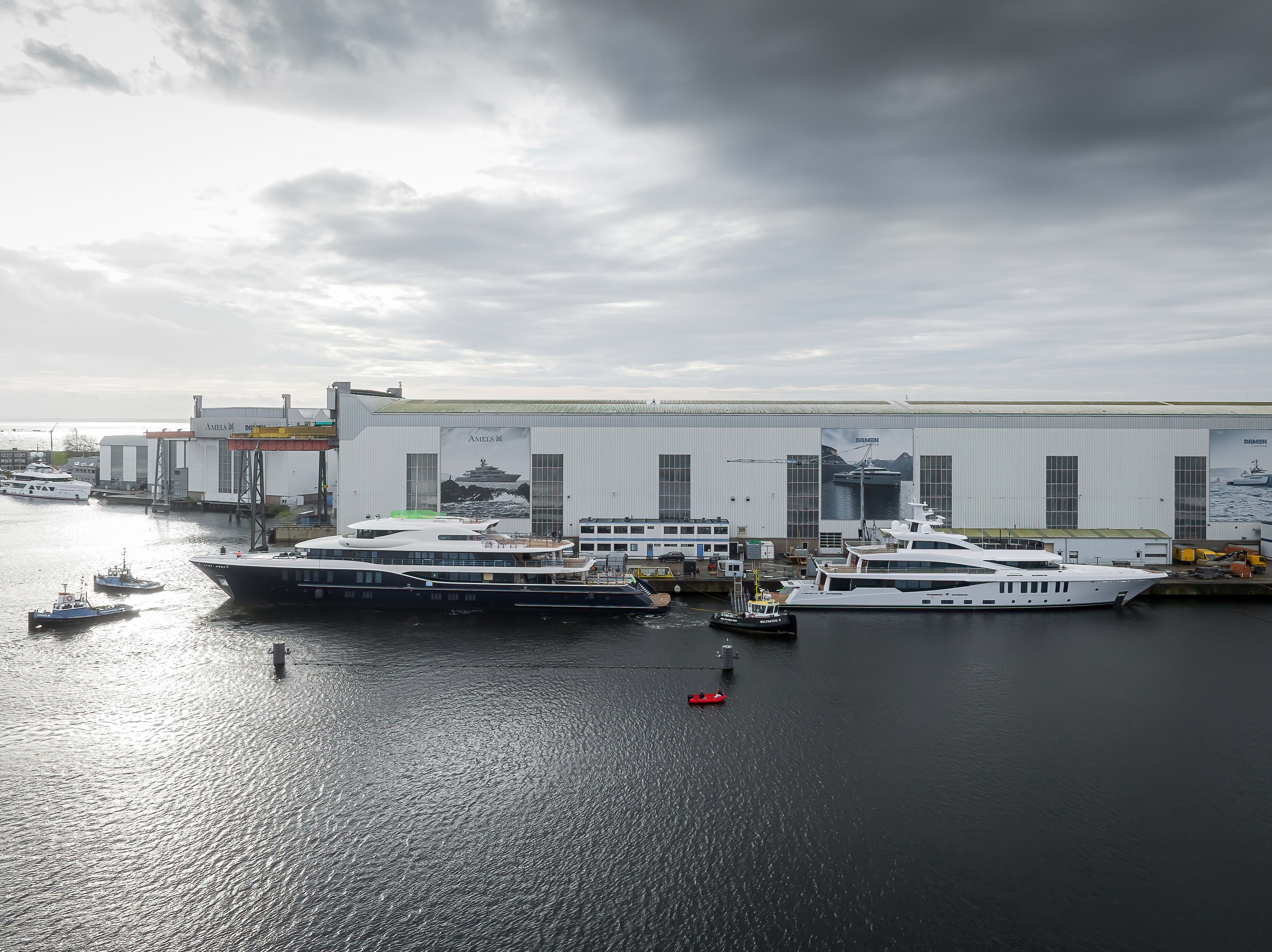 This week we celebrated two milestones with the launch of two new Amels Limited Editions superyachts: the 74-metre Amels 242 and the 60-metre Amels 200.
With more than 50 Amels Limited Editions yachts now at sea, this is the first time in our history that two superyachts have been launched on the same day. The craftsmen and women at our headquarters in Vlissingen City, the Netherlands, uphold the yard's legacy for building on schedule and are to thank for this historic achievement.
Timeless semi-custom superyachts
The pair feature customised timeless Amels Limited Editions exteriors by legendary designer Tim Heywood. A desirable offering of the semi-custom Amels Limited Editions range is the Owner's ability to choose their own interior. While unconnected, both Owners opted to commission Winch Design to create two unique superyachts with standout interior designs.
The classic Amels Limited Editions are considered collectors' items in the superyacht world, and the next-generation editions – the Amels 60 and Amels 80 – continue this powerful legacy.
The eighth Amels 242
For the Owner of the just-launched Amels 242, an eye-catching exterior colour scheme was one of the top items on his wish list. Steering away from the traditional all-white style, the Owner landed on a Flag blue hull and an Oyster white superstructure with the various vertical lines and stretches of windows standing out in a unique dark grey colour.   
Winch Design took the blue exterior colourway and incorporated it into multiple elements throughout the interior. As guests enter through the main entranceway, they are met with a wall of semi-precious agate blue stones. To match, there are various blue marbles onboard, as well as blue mosaics scattered through the Wellness Area.
Other standout features include a dedicated Owner's Deck with a Jacuzzi, a large aft swimming pool, Lower Deck Wellness Space and flowing spaces. Up to 12 guests can stay overnight in six staterooms and enjoy the unique dining and entertaining layouts on her multiple decks.
"The Owner wanted something different, and that is certainly what he has achieved, especially with the variety of marbles," says Peter Dijkwel, Project Manager at Damen Yachting. "This Amels Limited Editions superyacht is a great testament to the range and its flexibility – we can make anything work with this platform. That said, we couldn't have done it without the consistent and positive cooperation with the Owner's representative. This yacht has been created entirely on schedule and will be delivered on time on 1st June 2024."
The fourth Amels 200
The uniqueness of the fourth Amels 200 superyacht lies in her Owner's customisation choices. The Owner added a balcony to the Main Deck and exterior bars on every level. This Amels 200 at sea will stand out with her customised Whisper Grey hull – a colour which is subtly repeated in the exterior curves and arches, particularly around the superstructure.
"This yacht perfectly reflects the Owner's unique vision," explains Tom Oomkens, Project Manager at Damen Yachting. "There are many great details, for example, the windbreakers have been upgraded to feature a dark grey tone to mimic the windows. The Owner had many exciting design ideas and is experienced – which benefitted the project hugely."